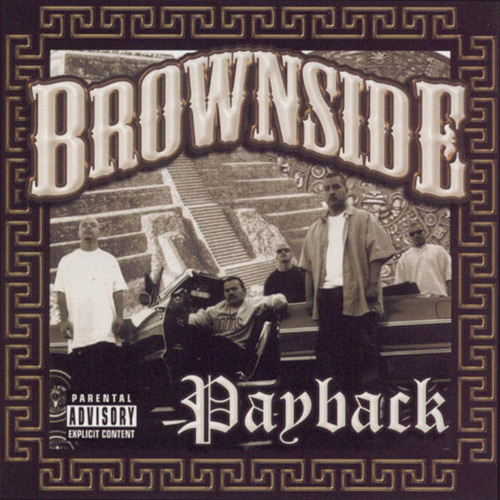 In commemoration of Toker's passing, this nineth of October marks the first anniversary since he left this earth. He and the entire Brownside left their mark in the game, imprinting a legacy that will last forever. A group whose story is haunted with tragic deaths and unrealized potential, managed to accomplish plenty in a time when you had to stand out to be heard. From an early age I was an avid fan of Eazy-E, so naturally the first song I ever heard by Brownside was "Eastside Drama". And from there I eventually gave the group a chance.

It all began in high school through a little program named Limewire. I began searching for songs by Brownside and instantly gravitated towards the quality of production on both the debut album "Eastside Drama" has their "sophomore" album "Payback". I put that in quotes because at the time, and to this day, I didn't think this qualified as a sophomore album since 8 or so (maybe half the album) was comprised of songs already released - or so I thought until recently. Late last year while letting "Payback" play entirely, I had an epiphany: the songs I had long considered duplicates were either remixes or alternative versions of the songs in "Eastside Drama". Due to the various prints (the original 1999, 2002, 2008 and the Japanese version) the track list is kinda all over the place.

As I ascend into the clouds on my trip to Minneapolis, MN, I'm listening to the wise words of that Street Saint Maldito, aka Wicked. "Payback" kicks off with the fluid Spanglish rhymes of one of the dopest lyricists in the game. Seamlessly stringing bilingual raps like a lyrical trapeze artist. No awkward pauses, just effortless fluidity on "Sureno Vida". The late Toker went as far as saying Maldito was the sickest Spanish rapper. There's an argument to be had there but he is entitled to be in the top 3 (with Dyablo and Sinful). In contrast to the debut, I couldn't find anything different about the track "Payback" on both albums. The sinister track is eerie, grimey and dark as fuck. Plotting a revenge, stalking enemies and getting high after the hit is among the most gangster lyrics heard on wax. It wasn't something overly exaggerated like the shit you hear on X-Raided's "That Sickness", this was cold and calculated neighborhood tales. As I have mentioned before, I'm not Rich Garcia's biggest fan. But kudos to him being one of the few people Toker's willing to work with. The "brown motherfucker with the master plan" (Toker) goes in hard on "Do Or Die" while Danger's animated demeanor gives balance to this rola's ominous humming and murky lyrics. My ruca loves this song and gets amped rapping along to it. The argument could be said that the Brownside's claim to fame was working with Eazy-E (or being signed to Ruthless Records). By now, everyone has heard "Eastside Drama" featuring Eric Wright. And it's probably their most well known song. I will defend the group by saying they're more than a one trick pony, and there's a lot more depth to them than just being "founded" by Eazy-E. While making a song with the founder of NWA is remarkable and a feat all on its own, they have made better songs, too. Unlike Dr. Dre who claims to know eses with AKs, and being down with the ese ready to rob and mob, Eazy-E was genuine when he said the "locos I kick it with are straight gang related". This awesome instrumental is a sample of — yup, you guessed it — "More Bounce". Keeping it alive with the sample, Toker rocks the instrumental on "Hittin' Switches" with such a high powered veracity (ferocity). You can feel the funk slapping and the fun he was having is evident.

Since his passing, "Last Day" has grown on me a lot. Toker's words are prophetic and realer than ever before. At first, this song didn't do much for me. I liked it but as aforementioned, Rich Garcia made me want to skip this track. To my delight, I let this song play and instead of hearing Rich G's voice in the chorus, I heard some DJ scratching and the vocals of some one else. This is that epiphany I mentioned early on. The song became more appealing, and to hear Toker's letras forewarning his demise 19 years later was arcane. The more I hear it the more it sounds like he's describing the events of his final moments so vividly it almost comes across as a conversation with the listener. I am still not won over by "Vatos In The Barrio", no matter how many times I listen to it. This song could have been better in many ways (altering the beat to sound deeper and heavier or having Wicked throw his Spanglish verses on). I'm still on the fence about "Creepin'", there's days I like it others that I grow bored halfway thru the song and hit next. I don't think the instrumental compliments Wicked and Toker's flow. When the original single dropped on vinyl for "Gang Related", the B-Side contained "Gangsta Point Of View" in both the instrumental and album versions. This was as early as 1994, and you can tell by the production. It sounds a little rougher than the polished songs on their debut. Still I love this song, though. I find myself reciting quotes from this jam on and off. I wanna say it's a sample of "Funky Drummer" but I can't quite put my finger on it. I can't stress enough how incredible the instrumental is to "Rest In Peace". The slow tempo mixed in with a low synthesizer flips this sample ("A Love Between A Boy And A Girl"). I makes me forget that Rich Garcia is on this track. What's even crazier is Toker's words, once again. The enigmatic fact that there's two songs that describe the feeling of death and the toll it takes on your loved ones trips me out, almost like he's foretelling his own passing. He wrote this for Danger, but it's also about himself. As you read the lyrics you can't help but think this song is now about him, too. The irony evokes a powerful emotion ("I know we'll see each other 'cause we'll be there some day" - Toker).

Over the years, "Can't Stop The Southland" keeps growing on me. Danger's hunger devours the track, there's a ton of unrealized potential simmering in this track. This version differed slightly from the original in several ways: the intro is more similar to the sample, the chorus is devoid of O'Genius' vocal (replaced by a female mixed in with Snoop Dogg's soundbite). It does have some oddity in the way Danger performs his 3rd verse midway - it starts to sound off in its cadence. Toker's flow as a young cat is underrated. Sure he may not have been as adept as Danger but his flow was fresh nonetheless. Rhyming over The Honey Dippers' classic drum break on, Toker describes his love of "Corona" pouring the other punk shit straight down the sink. Personally, I don't fuck with Corona, it's just not my taste. Not even a little lime and salt will do the trick. Referring back to the their first single, this version of "Gang Related" (as opposed to the vinyl) differs significantly. For starters, the instrumental was reworked. The original had a raw and rugged appeal to it, its production was rough. Then there's Toker's vocals: they're not as high pitched like it was on the vinyl. The only thing that remained the same were the lyrics and the chorus. I like both version, the vinyl version just sounds like some old school recordings. Continuing the trend of of leaving O'Genius out, his contribution on the chorus for "Life On The Streets" is replaced with snippets of Grandmaster Flash. The Whodini sample remained (with a lower decible), however, the drums from the Tom Tom Club have a lingering and echoing presence giving it a more street sound. I love everything about this track. The way Wicked begins his first verse by saying he "wasn't asked to join this shit, [he] was jumped into this motherfucker" speaks volumes to the way things unfold in the barrio. His "Thirteen Reasons" to be a Sureño has long been one of my favorite Brownside songs. He skillfully weaves rhymes in Spanglish with ease. I think that's what I found most appealing. The sample I found intriguing, not something I would have imagined they'd consider ("Chicken Curry..." by Last Tango In Paris).

Though this album contains remixes of songs previously released, they've slowly grown on me more over the years. I find myself amazed by the two songs with Toker's themes about death. In retrospect, it is crazy that he's rapping about something he'd experience in less than two decades. "Payback" is more like "Eastside Drama 1.5" than a stand alone album. Half the material was recycled, but it's like a B-side to the maxi singles that were popular in the 90s (similar to Ice Cube's "Bootlegs & B-Sides"). I regret not buying this when it was everywhere and easily accessible. I had some difficulty finding a copy of this. I copped the Japanese version which has its own share of differences and edits. The track order was reorganized and some songs had altered beginnings and intros. It's missing a few tracks and the tracks that are included are not the remixed/alternate versions. The cover is cool, though. If by chance you encounter this, I strongly urge you to buy it. It deserves a spot in your collection if you don't already own it.

01. Sureno Vida
02. Payback
03. Do Or Die
04. Eastside Drama
05. Hittin' Switches
06. Last Day
07. Vatos In The Barrio
08. Creepin'
09. Gangsta Point Of View
10. Rest In Peace
11. Can't Stop The Southland
12. Corona
13. Gang Related
14. Life On The Streets
15. Thirteen Reasons