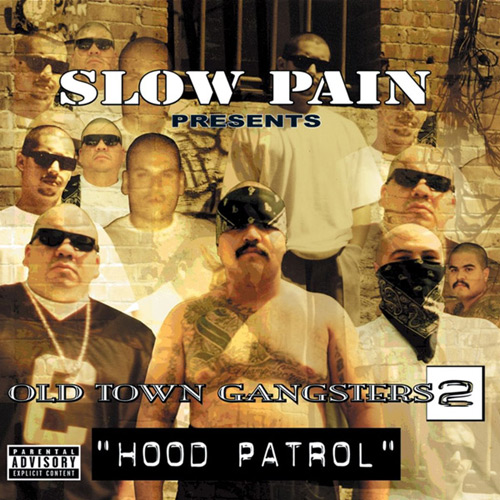 Slow Pain's decades long prolific career has brought so many projects into fruition. Everything from solo to group albums, collaborations and compilations; you name it and Slow Pain has done it. Some 10 years ago, a random person sent me a question on YouTube. He asked if I could help him figure out a song playing in a video of a breakdancing competition. The beat was knocking. At the time I didn't know it was Slow Pain tune but 'twas because of that inquiry that I sought this out. To my surprise it was "Ohh! LA" blasting in the background. I typically stick to my 90s collection but this was one of those few exceptions. I felt compelled to look into this and buy it. The walls of my home are starting to fill with wall decor consisting of framed album covers and served as a good addition. The cover is like a rustic sepia tone with Slow, an image of whom I presume is Lil Vee (rest in peace) and the rest of OT Mafia repeatedly lined up in a collage - this looks dope from far away, if you get closer the optical illusion becomes obvious.

If I pin point it down to a single person, I'd say Slow Pain is the epitome and embodiment of classic L.A funk. He's long been one of my favorite go-to rappers for some feel-good gangster tunes. I slapped this compilation in my ride and what's the first thing I hear? The classic sound of synthesizers. The intro ("Hood Patrol") is just Slow Pain sounding off the roll call for his Old Town artists. It's about a minute and a half but the instrumental is too damn good to be wasted on an intro. Why? 'Cause it is a sample of Dr. Dre's "High Powered" from 1992. Would have loved to hear him and the crew spit a few bars on that beat. As the intro goes silent, you hear the drums start to thump. A synth starts to buzz. Bass kicks in and just like that you're captivated by the funk permeating from "Ohh! LA". Bigg Bandit and Slow Pain rip this track up. Always a banger. I did notice that the song fails to mention NELA in the q'vos to East, West and SELA. Kudos for the transition from the funk to an oldie; it was done flawlessly. As "Never Give You Up" commences, that thick slap and classic Jerry Butler melody and chorus begins to loop. I get lost in this sample, almost forget that Slow Pain is remising about love and rapping about life behind bars. I don't typically dig love songs but this rola has a different appeal that I can't help but dig. Providing a smooth, soul-funk groove to "If You Want It" is none other than James DeBarge (of The DeBarges) on the chorus while the Old Town Mafia raps about hynas, one night stands and the like. Personally, the song is one of my favorites and definitely stands out.

At this point, we're creeping up halfway through this album in a quick manner. The fifth song is not my favorite, this sounds like the beat drowns Slow Pain's voice. And his monotone flow sounds like he's reading off a menu list. I can't hate though, the instrumental (to "Gangsters Live For Ever") had potential and the concept of the homies' memories carrying on is cool. I struggle to be entertained by the next song also. For having a title that conveys excitement,"Throw Your Hands" does anything but. Don't get me wrong, Bigg Bandit has flow, just the chemistry with Slow wasn't there on this one. If this was a beverage, it'd be like a bottled beer left out in the sun for a week. In an ode to both the Old School and one of his first hits, "Still Saturday Night Balling" slaps you with an updated new funk sound. I like it, just not as much as the original or the remix. It does change up the tone to the second half of the album. Can't help but immediately groove to the next jam. Pardon the onomatopoeia, but the bom-bom-pa-pa-pump-pump (repeat twice) is catchy as fuck. "Only In Cali" does an excellent job of keeping you engaged. Seven, Slow and Bandit are dynamic. Everything is on point, but it's the chorus (performed by Sean Michael) that absolutely makes this track into a banger.

Though I praise much of the album, there are some tracks that just sound like their sole purpose was to serve as a filler. That being said, "They Hate The Life" is one of those tracks that doesn't hold my attention for too long. Seven's solo track "Click Clack" is slowly growing on me. Or maybe it just has a lot of unrealized potential. The chorus could have been sung by either James DeBarge or Sean Michael to make it stand out. Which leads me to the following song: "Ride With Me". No, not the 1995 track by the same name. This featured the talents of Bigg Bandit and James DeBarge. The track is fire. The whistling tune is catchy as fuck. As soon as this comes on, my ruca turns up the volume. Now, I've heard the instrumentals to this, and while I like them, it's James DeBarge that transcends this song - that's not to say that Bandit and Slow aren't worth mentioning. Serving as the final track, a dedication and interpolation (at least in the chorus) to the NWA classic by the same name, "Gangsta-Gangsta", brings this to a close. Does this go out with a bang? No far from it. It sort of fizzles out. A modern take on the NWA track would have been more effective, kinda like Lil One and Royal did (or in the manner in which Lil Rob paid homage to MC Breed and the Old School on "Good Game").

Overall, I think this was a solid album. Most of the compilation was great, dope beats, delivery, and word play kept this going. I first downloaded this years ago and kept them in my music library. As of late, I've been building my physical collection and this turned out to be a great addition. There wasn't an over saturation of themes or samples. This sounded fresh, even 17 years after it dropped. It plays like the progression of 90s G-Funk into the new millennium. Just like Guru once said, "What we do, we update our formulas. We have certain formulas but we update 'em with the times, and everything. The style of beats is elevated but it's still" Slow Pain at the core. Is this a must have? I'm leaning to a definite "yes", or partially at the very least. If you dig Larry Patino's music as much as I do, then I encourage you to pick this up. I am still baffled that it didn't end with a 13th track, an outro of sorts. As I've said in the past, another missed opportunity to bring it full circle considering he began with the fictitious cell block thirteen hundred.

01. Slow Pain - Hood Patrol (Intro)
02. Slow Pain - Ohh! LA (feat. Bigg Bandit)
03. Slow Pain - Never Give Up
04. Old Town Mafia - If You Want It (feat. James DeBarge)
05. Slow Pain - Gangsters Live For Ever (feat. Jonny U)
06. Slow Pain - Throw Your Hands (feat. Bigg Bandit)
07. Slow Pain - Still Saturday Night Balling
08. Seven - Only In Cali (feat. Slow Pain, Bigg Bandit, Sean Michael)
09. Slow Pain - They Hate The Life (feat. Lil Demon, Seven)
10. Seven - Click Clack
11. Slow Pain - Ride With Me (feat. Bigg Bandit, James DeBarge)
12. Old Town Gangsters - Gangsta-Gangsta