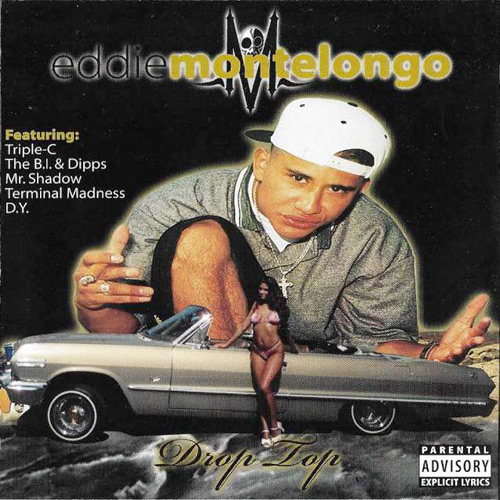 His moniker may not be as common as other household names in the underground, nevertheless Monteloco deserves a spot at the helm of Chicano Rap. Unlike the rest of his peers, Monteloco's material is a little harder to come by. I've stated many times how severely underrated and under represented the 805 is, but I can't stress it enough. The 805 packs quite the punch for its small size. When "Drop Top" fell on my lap, I was eager to listen to it and was pleased to see it was only 10 tracks long.

In all my years listening to his music, the funny thing about Monteloco is that he never struck me as a gangster rapper, more like a party/ thug rap kinda dude. But he's alluded to the Sureño affiliation numerous times and "Cuidado" doesn't mince words about it. There's an infectious way about Monteloco's style, his delivery can easily change from a relaxed nonchalant flow to a hyped up adrenaline rushed rap, with a natural use of Spanglish. There's times I like this song and others where I think it's goofy. Regardless the beat does a good job at captivating you with its funky synth. Featuring additional talent from the rest of the 805, the Triple C graces us with a guest appearance on "West Coast Riders". My first thought when I heard the chorus was, "why is the name "West Coast Riders" if they say "Westsid" instead?" I was left more confused than entertained. I'm used to a Triple C rola jam packed with samples but this was a little different than their usual. It's not bad but it does get left behind compared to other standout jams.

Probably my favorite track on the album, "Drop Top" stands out as a arguably the best song. The sample is great, I wanna say it's the Isley Bros "Living For The Love Of You" among others. It's just him spitting a hungry verse devoured by an awesome instrumental. From the 805 to the 619, lyricism isn't limited by language barriers. Shadow is one of the few artists that can bust a whole verse in Spanish and sound dope, as for Monteloco, he's skilled enough to flip Spanglish naturally over a cynical instrumental (the type we associate with Tattoo Ink and Conejo) on "Hit 'Em With The Shit". The jump back to a hyped beat with a funky loop on the next track is hypnotic. "Get On Top" is hella catchy and there's times I find myself tapping my feet to the beat.

Now, I've made it quite evident in past reviews that I am not fond of Brown Intentions nor Eastside Click and the original version of "Going Places" is a good reminder why. It just pales in comparison to the remix. I can't even listen to this version. The chorus with Monteloco repeating the name of the song in the background throws me off, not to mention the weak ass beat. Skipping is a must for me. Speaking of remixes, "Lexus Games [E&J REMIX]" flips the album back to that G-shit we love, with a sample of "Gin & Juice [LAID BACK REMIX]" that slaps. What solidified the jam was the A-B-A-B rhyme scheme to the claps of the beat. The comrodary of 805 rappers makes for a dope feature on "Cash Flow". I dare say D.Y outshined Monteloco on this track.

One of my all time favorite Chicano jams has always been "West Coast Style", the Whodini sample is a banger, it's so overpowering that I forget that some one is rapping on it. Funky raps are what I love in Chicano Rap, and "805 Collaboration" is the fix I need to satisfy me. Once again, D.Y steals the spotlight ripping the first verse, Terminal Madness came correct with the rhymes (with the exception of the Spanish verse), and Down's verse I think I've heard elsewhere. Espanto is talented, though. The song is kinda all over the place, I'll admit.

Monte has a good balance of beats, from typical West Coast sounding beats and a mix of more "hip hop" oriented ones that his adaptive and versatile style segues into. The 10 tracks makes it an easy album to listen to without it becoming stale or too long. I'd heard about half the album in other Familia Records releases (mainly the "Southside Riders" series), yet it still felt fresh when I listened to it in my stereo. Before I finish this, I want to thank the homies on CalifaRap for reigniting my interest in Monteloco (E.Montelongo). Both Milo and Kult provided me with some heat. Monteloco can be a skilled lyricist albeit some ridiculous lines from time to time. I wish he had left a bigger impact in the game, homeboy had a lot of talent.
01. Cuidado
02. West Coast Riders (feat. Tripcle C)
03. Drop Top
04. Hit 'Em With The Shit (feat. Mr. Shadow, Terminal Madness)
05. Get On Top
06. Going Places (feat. The B.I)
07. Lexus Games [E&J REMIX]
08. Cash Flow (feat. D.Y)
09. West Coast Style
10. 805 Collaboration (feat. D.Y, Capricorn, C-Double, Terminal Madness, The B.I, Dipps)