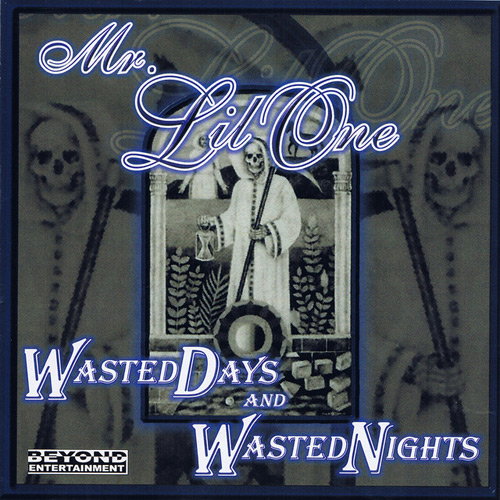 From the moment I started listening to music, a reoccurring thought I have always had is whether or not an artist likes every song they record for an album. As I grew older, I began to realize that my hunch wasn't that farfetched: Slash from Guns N' Roses wasn't fond of "Sweet Child Of Mine", Dr. Dre hated "Deep Cover" to the point that he almost never released it, and to my surprise Mr. Lil One admitted he doesn't like his 1999 album "Wasted Days And Wasted Nights". I was actually shocked when I heard Lil One reveal to Tony A that "even my second record "No Condolences" - I don't like that album. "Wasted Days And Wasted Nights" - I don't like that album. "Voices" - I don't like that album." He offers an explanation about how the money and fame from his debut got to his head.

As of late, "Wasted Days And Wasted Nights" (WD&WN going forward) has become my second favorite album by Mr. Lil One. Originally released way back in 1999, it's hard to believe it's been 21 years. I'd say this is one of the best album covers in the genre depicting La Santa Muerte or the Grim Reaper (depending on your upbringing). I can't help but think the name for the album is derived from (Chicano musician) Freddy Fender's classic song by the same title. The intro track sets the tone for the rest of the project as the next song by the San Diego trifecta consisting of some of the baddest lyricists to breath life into the mic takes effect in what has got to be one of the dopest diss tracks in Chicano Rap, hands down. The chemistry between all three emcees is absolute fire, both Mr. Lil One and GPA had a chip on their shoulder while Shadow has more of a broad diss with no names in general. Lil One's rhyme is venomous, the clever wordplay with the names of the Tribe members (Spanish Fly, Payaso, Rude Dog and Sendo) in the last chunk of his verse added a touch of finesse. GPA was a little more blunt and direct with no holds barred. Hindsight is 20/20 but damn why was this trio not an official lineup? San Diego was just oozing with talent. "Never In Your Life", in my opinion, is on the lackluster end of the spectrum. Not exactly the most entertaining of songs. Maybe it's somebody's favorite track, but it almost lacks all the qualities I seek in a West Coast rap song.

Where would Chicano Rap be had we not been blessed with the likes of Mr. Shadow and Mr. Lil One collaborating? "Mistahs" showcases the great chemistry these two legends possess. But that's just a trait Lil One possesses, more so with his San Diego counterparts (Gelo, Knightowl, Shadow, GPA and even the aforementioned Aztec Tribe), but it just goes to show the versatility of his style and flow that mesh so well with just about any collaboration. I still remember downloading this song when Limewire was the shit, and it has remained one of my favorite songs by the duo. At times, however, I think somethings could have made this song better, the mixing for starters. The relative levels could be adjusted and balanced a little more for a more subtle instrumental than the loud and often overpowering of the vocalized sound effects that seem to drown the acapella. Still, I love that very same vocalization paying homage to "More Bounce To The Ounce". It's ironic that the day I get a chance to sit and write, it begins to rain. Which lets me segue into the next song: "When You Hear The Rain Falling". The ominous synth playing in the beginning complimented by the piano keys followed by the triple clap adds to the haunting lyrics' effect. Though the themes are grim, Mr. Lil One's cadence is energetic, not in a rapid flow but a steady pace. It's not my favorite track but I can bare it from time to time. Fun fact about this song is that the incomparable GPA is listed as a feature despite being completely absent. I reached out to him and he was kind enough to shed some light on this, turns out it's a misprint. I was speculating that it was probably due to some ghostwriting or some shit, but the homie clarified that Lil' and Shadow wrote their own shit.

Further clarifying his participation, GPA confirmed his only guest appearances and contributions were on the second track and "Six Six Six" (ironically the sixth track in the album). The intro for the song is a distorted snippet of the film "187" where Samuel L Jackson is talking to the homeboys in the kitchen while playing Russian roulette. It wasn't until several years ago that I realized this was another diss track towards the Tribe ("we're gonna fuck up all 5 of you and the rest of the world"). The thick bass gives this song a flare of that unmistakable West Coast sound. There's a rhyme that perfectly sums up the chemistry between these two lyrical arsonists in which GPA says "Mr. Lil One is comin in with the bow and arrow/ That's my evil twin, or should I say my twin devil". Getting into the most lively production that I associate VMF with, the next song provides the listeners a more party oriented song with - of course - misogynistic lyrics. It begins with VMF dialing Lil One (the way Lil' answers cracks me up every time). The first chorus summarizes the threesome he and his homie Droopy had with a hoe. The chorus is catchy, however I'd say it's a poor choice of words ("slippin', slidin'... let the Little go deep inside"). For one, the sequence of words makes it appear like your dick's nickname is "Little". Second, I wouldn't associate my manhood as "little", especially in a song. Otherwise, I think the song gives off a good vibe. I'm a fan of the Old School and was instantly drawn to "So Sick" the moment I made the connection to Kool & The Gang's 1984 hit "She's Fresh". Mr. Lil One warns us he "ain't no muthafucking singer, but imma put that shit down" and damn it, he did! I often find myself singing this in the car, when I'm fixing shit around my house, or more frequently when I'm drinking. Thanks, Lil', you made a party anthem that I feel personally attached to. Definitely my favorite rola off this album.

I don't know if it's just me, but "We Ain't Right" gets better and better each time I play it. When it comes to music, funk samples are my favorite. It's the soul of the track. VMF laced this One Way sample of "Pop What You Got" (if I'm not mistaken). It has a minacious tone accompanied by Lil One's sinister and Gelo's baritone voice. Just like Lil' One says: "unfadeable, not to be debated". This song slowly grew on, little by little it crept up to one my favorite songs by the duo. This stellar track can be found in several compilations. Riding that undeniable West Coast sound of thick trumpets (brass? I don't know) and heavy bass, we are blessed with another performance by Gelo and Mr. Lil One on "Everybody Knows". The track itself didn't sit well with me at first when I initially heard it many years ago. I almost got the impression of an unenthusiastic Lil One rapping, especially with that unusual pause midway through the chorus while the whole chorus itself gave lethargic vibes. As the years went by, it became less obvious and I've grown accustomed to the delivery in this song. The final song before the outro features Mr. Shadow for the third time. I generally like this duo though I don't love every song by them. This is one of those songs I tend to skip more often than not. It's not a bad song, there's days it shines and others that it gets buried in my music library. I will say that Shadow's flow is exemplary, Lil One's laugh, however, is over the top but it's part of his unique character (I guess). The project comes full circle in the manner it began. The haunting message is the same into the album as it was ending it. I like that. It's poetic in a sense.

Can I just say how dope this album cover is? I know I've said it a million times about not judging a book by its cover but this is one of those rare occasions that you know it's gonna be a dope album just from picking it up. I can only speculate why he doesn't like WD&WN. This may have been a dark stage in his life. And in retrospect, he probably sees this as a low point in his personal journey, from the problems and squabbles that surrounded him at that juncture. But I'm glad the pleito and all the pedo Lil One and GPA had with Madman and the Aztec Tribe has been set aside (even if it took longer than it should have). My criticisms are minor, I dislike hearing raza drop n-bombs in their raps ("Mistahs" & "Shakin In Your Boots") and the intro/outro are kind of a waste of space. The vibes of this album are reminiscent of his debut and the production on here is very close to it as well. The more I look at the track list, it feels more like a "Lil One featuring..." than a solo album (Mr. Shadow is featured thrice, GPA & Gelo twice each) considering the first album was basically a devoid of features except for one song. As I've been compiling my collection of Mr. Lil One's albums, I noticed a peculiar thing about this release while flipping through the 619 Sickos album (review coming soon). When you remove the disc from the jewel case, the back panel has all the projects Lil One had been a part of up until that point and Familia Records actually listed WD&WN under their catalog of music. I always thought this was a Beyond Entertainment exclusive, regardless I find it an interesting fact. Now, you're wondering if I think this is a classic? Absolutely. It plays well from beginning to end. I can listen to the whole thing in a single trip from San Diego to Orange County. If you don't already own it, you should.

01. Intro
02. Shakin In Your Boots (feat. Mr. Shadow, GPA)
03. Never In Your Life
04. The Mistahs (feat. Mr. Shadow)
05. When You Hear The Rain Falling (feat. GPA)
06. Six Six Six
07. Slide
08. So Sick
09. We Ain't Right (feat. G-Lo)
10. Everybody Knows
11. The Devil Did? (feat. Mr. Shadow)
12. Outro